10 Best Activity Trackers for Fitness Enthusiasts
Do you want a longer, healthier,and more active life span? Are you usually stressed and looking for something that could help to boost your mood? Is your sex life boring and exhaustive? There's only one answer to all these questions: Staying Fit.
Generally, people believe fitness is all about strenuous workouts and healthy weight, but there's a lot more to it. A fit and active lifestyle not only includes a daily workout, be it an hour at the gym or brisk walking/jogging around the neighborhood, but also encompasses a balanced diet, sufficient sleep, and a consistent routine.
You cannot be sleeping in on time, hitting the gym and maintaining a strictly balanced diet on weekdays, and partying nuts over the weekends consuming alcohol & junk, skipping exercise and ignoring your sleep routine. Of course there can be cheat days but a scheduled cheat day, like a definitive going off the leash over the weekends can be quite detrimental to your fitness regime.
Regardless of age, gender, BMI or body type, fitness is crucial to a healthier and long lifespan for everyone. It not only improves the quality of life but also reduces risks of injuries, increases the lifespan, enhances productivity, boosts your confidence, manages stress levels, and promotes a positive attitude towards life.
In order to maintain an active and healthy lifestyle, the best approach is to set personal goals on a daily basis. Start with your hydration, sleep and exercise goals. You could commence by setting a goal of consuming at least 6 glasses of water daily, getting at least 7 hours of sound sleep, minimizing your daily calorie count by 25% and exercising or walking, or indulging in any other physical activity for at least 30 minutes. If all these goals are too much for starters, choose one and start practicing it daily and observing your track record. Add another goal to it and stick to it for another week and continue this way until you start reaching all your fitness goals.
If you are already wondering how you will really track your fitness goals, we have got the solution and that is fitness trackers.
What are Fitness Trackers?
Like smart watches, fitness trackers are basically wrist bands exclusively designed to track your fitness regime. From counting steps to monitoring sleep patterns and measuring your heart rate, blood oxygen levels, and providing you a wide array of statistics to help you monitor your fitness and set your goals, these wearable tracking devices have become increasingly popular.
Fitness trackers not only allow you to monitor your activity levels but also keep you motivated by providing you a visual progress of your activity. They also serve as a reminder for when you are missing out on your routine fitness activities and allow you to set daily, weekly and monthly goals. You can also set the time limit for various fitness activities or if you are trying to shed some of that fat off, they can provide you real time stats to help you keep up with your weight loss goals. They also promote healthy eating and sleeping habits contributing to an overall healthy and active lifestyle. In addition, they also contribute massively to saving all the healthcare costs which would otherwise be spent in case of illnesses and injuries occurring due to lack of physical activity and a althy lifestyle.
Best Fitness Trackers for Health Enthusiasts
From the many options to choose from and the tant upgrades being offered, selecting the right fitness tracker can be quite daunting. With smartwatches gaining popularity simultaneously, buying a fitness tracker that suits your need is a pretty confusing job but you don't have to worry about it because we have you covered. In this list, we have added some of the best fitness trackers after running hundreds of tests and getting tons of expert advice and customer opinions. We have purposely left out high-end wearable items like the Apple Watch Series 6 or the Samsung Galaxy Watch 3, making this list singularly focused on fitness trackers.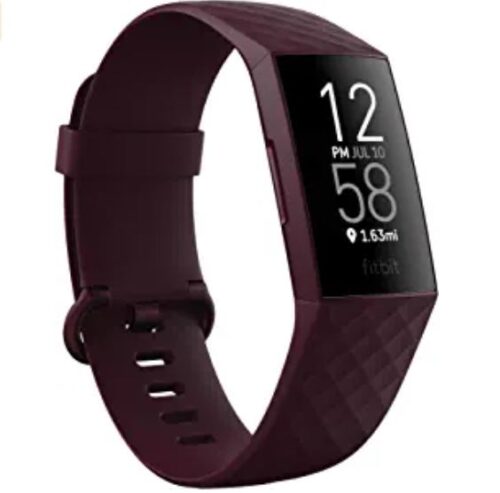 Price: $141.36
Coming with a pro built-in GPS system, which has been newly introduced, the Fitbit Charge 4 is leading the industry with its impeccable design and unmatched features. In a recent upgrade, FitBit has added a pro intensity map identifying the key areas of your exercise. The Fitbit sleep tracking analysis allows you to track your sleeping hours and sleep quality better. The most defining feature is its 7-day battery life, which enables it to effectively monitor your activity without break. It is also waterproof up to 164ft and offers NFC payment feature as well.
Pros:
The most efficient fitness tracker available
Built in GPS
Detailed sleep analytics
Exceptional Battery life of 7 days
FitBit Pay enabling payments on grocery stores etc
Compatible with Spotify
Waterproof up to 164ft
Cons:
Basic user interface
Doesn't have a color display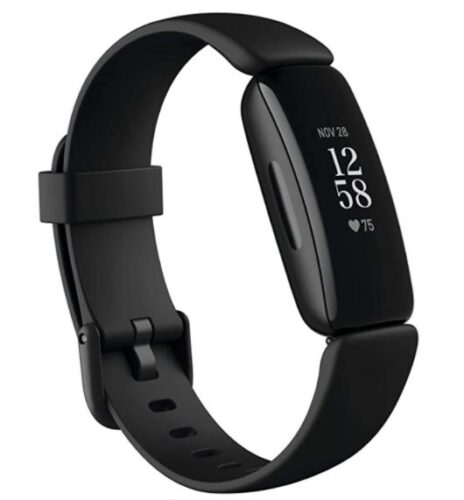 Price: $99.00
A more affordable range by Fitbit, the Inspire 2 offers an exceptional battery life of 10 day and tracks heart rate 24/7. With a simple interface and a sleek design, inspire 2 offers continuous tracking of various metrics including heart rate, step count, sleep quality etc. The watch also supports GPS and has 20 different exercise modes to help you track your workouts better. Along with heart tracking features, it also includes breathing and menstruation trackers.
Pros:
Battery life of up to 10 days
GPS enabled which allows marking of exercise zones
20 exercise modes which help you track your workouts better
Heart rate, Breathing and Menstruation trackers
Additional smart watch features
Cons:
Outdoor screen visibility not too good
Heart rate tracking now accurate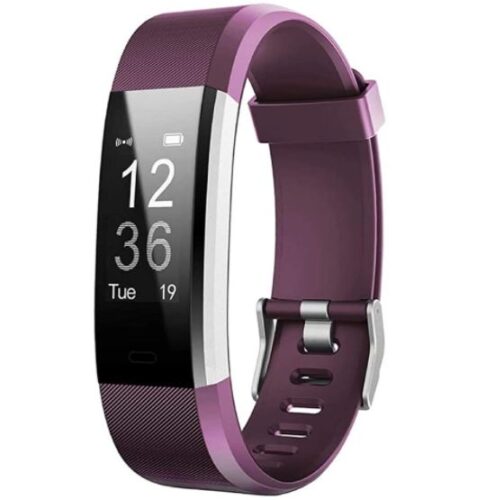 Price: $23.99
Taking after Fitbit in its design, the LETSCOM fitness tracker stands number 3 on our list, for its amazing features at a very low price. It has IP67 water resistance and shows vital monitoring metrics such as heart rate, calories burned, steps count as well as sleep cycle. In addition, it also offers some smart watch functions sending notifications for calls and messages. It also has an active GPS support that records your frequent jogging tracks.
Pros:
Excellent value for money
Sleek Design
Splash and Sweat Resistant
Smart-watch features
14 exercise tracking modes
Sedentary Alert
Cons:
Complaints about inaccurate step count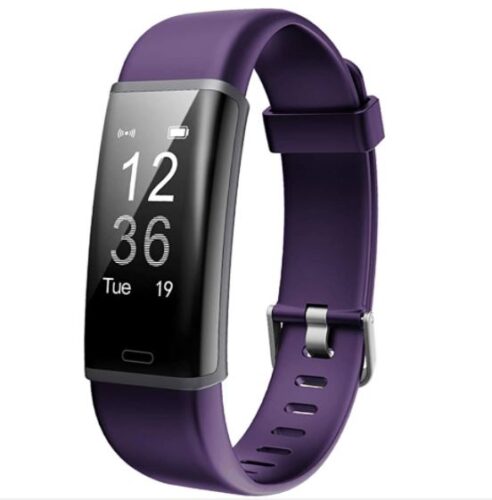 Price: $26.98
Coming in on number 4, the Lintelek Fitness Tracker is another budget-friendly option, and that too with an excellent value for money. It has 14 different sports modes just like LETSCOM including walking, hiking, yoga, treadmill, basketball, and tennis etc. It monitors the heartbeat and sleep cycle 24 hours and is IP68 water-resistant which means you can swim or shower while wearing the watch too. This too has added smartwatch features and gives notifications every time you get a phone call or a text message.
Pros:
14 different sports modes to monitor activity
Constant heart rate and sleep cycle monitoring
IP68 water resistant, allowing you to swim while wearing it
Choice of colorful straps
Cons
Doesn't promise 100% accuracy in counting footsteps
Doesn't have GPS
Not compatible with several Samsung and Huawei Models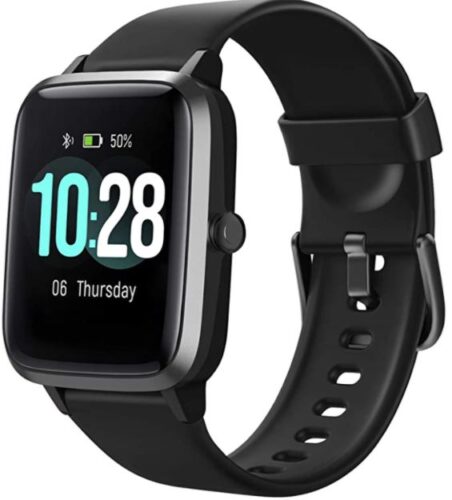 Price: $36.99
If you are looking for a budget friendly and durable wearable, LetsFit Smart Watch Fitness Tracker is for you. With a sleek design, this tracker does everything what you expect from a fitness tracker such as monitoring heart rate, sleep cycle, step count, and activity log etc. It supports cordless charging allowing you to charge you device while you continue wearing it. It also has similar smart phone features as other watches in the same budget.
Pros:
It is water resistant
Multi featured monitoring of heart rate, breathing patter and calorie count
Sedentary reminder so that you don't miss out on your fitness goal today
Extremely durable
Cons
Battery timing is average and needs charging every 3 -4 days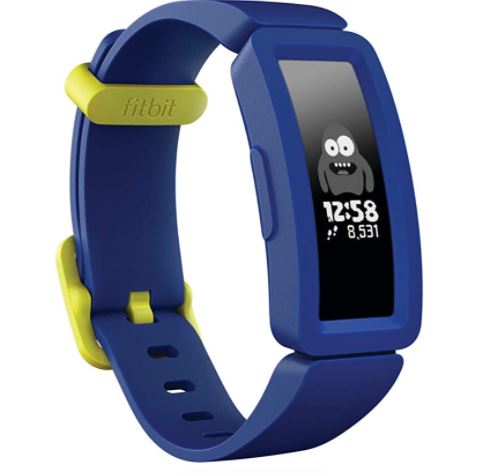 Price: $68.50
Targeting a younger audience, the Fitbit Ace 2 for kids has vibrant colors and a buckle incorporated in its design. It has both monochrome and Monochrome OLED options and has 19 different watch faces to choose from. This fitness tracker is waterproof adding a great benefit for kids who love water sports. It has amazing fitness tracking features that nudge kids to take 250 steps an hour and create daily goals and challenges. The watch only tracks basic metrics such as daily steps and sleep cycle but the account upgrades once the child crosses the age-13 barrier and the Ace 2 starts tracking more metrics. The wearable also offers parental control option.
Pros:
Water Resistant
Easy navigation
Prolonged battery life up to 4 days
Basic metrics tracking
Cons
No GPS support
Doesn't track distance
No heart rate or calories burned tracking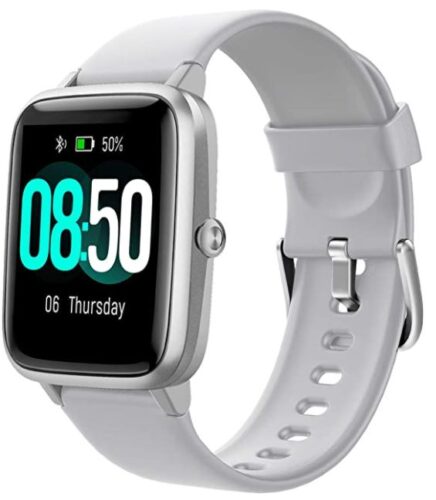 Price: $35.99
Even though this is originally a smart watch, but it also doubles as an efficient fitness tracker and is number 7 on our list. It has a great battery life up to 10 days and is IP68 water resistant means it can be worn while swimming. It offers basic fitness tracking such as steps count, heart rate monitoring, calories burned and sleep cycle. It can also record workout sessions and is compatible with Android 4.4 and iOS 8.0 phones.
Pros:
Prolonged battery life of 8 – 10 days
IPS68 water resistant
Basic fitness tracking features
Additional flashlight for use in the dark
1 year warranty
Cons
Doesn't offer PC or table synchronization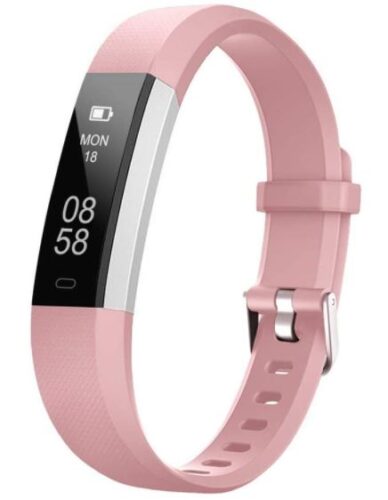 Price: $27.99
Another budget friendly wearable by LETSCOM is the fitness tracker with heart rate monitor. This fitness tracker can withstand moderate exposure to water and sends sedentary notifications. It tracks daily step count as well as minutes/hours spent in any physical activity. The tracker also has sleep monitoring feature with records sleep duration and quality accurately. It has a simple design and offers higher than average performance.
Pros:
Simple design & good value for money
Excellent battery life and also offers fast charging
Accurate sleep and heart rating monitoring
Cons
The screen is quitter smaller in size
Buggy app updates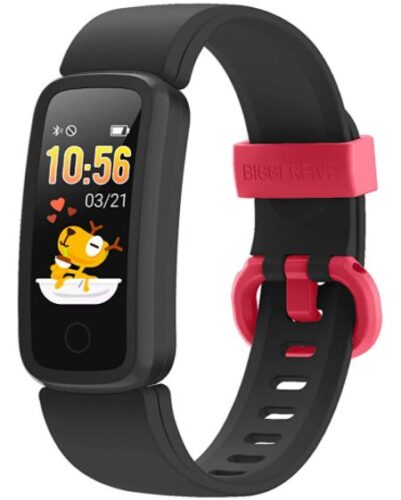 Price: $25.99
Standing at number 9 on our list of Amazon best sellers is BIGGERFIVE Fitness Tracker for Kids. The watch is waterproof and can withstand showers as well as sweat. It has a built in alarm clock which can set up to 5 alarms. It also performs smart watch functions notifying about WhatsApp, Facebook, Instagram and Twitter updates. It is very lightweight, and offers basic metrics tracking for step count, distance as well as calories burned.
Pros:
Very lightweight and easy to wear
Completely waterproof
Social media notifications
Accurate tracking of fitness metrics
Cons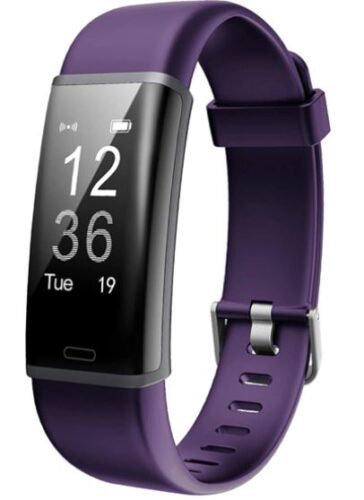 Price: $26.98
With an inbuilt GPS and accurate heart rate monitoring, the Lintelek Fitness Tracker is number 10 on our list. It is budget friendly and offers average speed, workout route, activity distance and energy consumption stats. It also offers Bluetooth support as well as a vibration alarm clock. The device support Android 4 and above and iOS 7.1 above for smartphones. It also shows phone and message notifications and sends reminders.
Pros:
It has a vibration alarm system which means you can put the device on vibrate on a scheduled time to prompt you over something important
It tracks heart rate, calories as well as average speed and workout routes
It also offers Bluetooth connectivity with other devices
Cons:
The device is not water proof and should not be worn during swimming.
In a Nutshell
Staying fit and healthy is very crucial and fitness tracking devices provide all the motivation, stats and goals to help you achieve your fitness goals regularly. Most of these devices are compatible with your phone and some even provide personalized fitness plans depending on your BMI and social activities.