10 Best Smart Security Systems for Your Home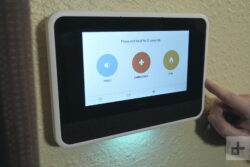 10 Best Smart Security Systems for Your Home
No matter how staunch a city's civic and security authorities are, there's always a chance of theft, burglary or accidents like fire or gas leaks. Since early ages, people have resorted to protection in one form or another for their properties and their valuables. From hiring watchmen, to installing strong bolts, double doors and fire and theft alarms, most people are always looking for upgrade in the security of their homes.
This is more common in areas where there are more frequently reported cases of thefts and robberies. However, having a good security system is no less important in areas which rarely report robberies. Security systems are designed not only to add protection against trespassing and break-ins by robbers, but also raise alarms in case of a fire or gas leak which could be hazardous or lead to a bigger disaster.
All home security systems work on the basic standard of safety entrance points, like doors and windows as well as interior space comprising of valuables like art, computers, furniture and several other items. Regardless of the number of doors and windows you have it is only the security system that matters and makes a difference in the safety of you and your home.
As the world moves forward, people are getting more and more occupied with work related commitment which leaves no time to install or manage old security systems. Private watchmen are a luxury not everyone can afford and in the era of smart technology, the traditional security systems are simply not enough to provide the much needed reinforcement to home security.
This is where smart security systems come in.