Honeywell Lyric T5 Wifi Thermostat
Eighth Place
Honeywell Lyric T5 Wifi Thermostat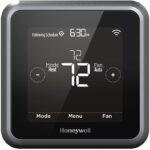 PROS:
Compatible with Alexa, Cortana, and Google Assistant
Easy to install
Comes with a remote room sensor
Dual-band Wi-Fi
CONS:
Doesn't support Apple Homekit and offers limited functionality with IFTTT
It is not designed to integrate with home automation system or other smart devices at home
Synopsis:
The second Honeywell thermostat on the list, this T5 WiFi enabled thermostat uses long range sensors to make sure the temperature across your home remains uniform. It is very easy to install and comes with a remote room sensor. It offers compatibility with Alexa, Cortana and Google Assistant and has a dual band WiFi.
Price: $114.99