Top 10 Essential oils for healthy life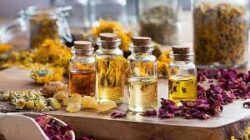 Ten best essential oils for healthy life
For centuries, healthcare sector has been dominated by allopathic medicines, and researches, treatments and diagnoses done through the allopathic methods are regarded most authentic. However, in addition to allopathy, various other methods like homeopathy, naturopathy, aroma therapy chiropractic care, Chinese medicine, and Ayurveda has also been adopted by people far and wide to cure illness. In recent times, aroma therapy has gained a lot of popularity owing to the many benefits it offers.
Nowadays, use of different and complementary therapies with mainstream medicine has gained momentum. Aromatherapy is one of the harmonizing therapies which incorporates use essential oils as the major therapeutic agents to treat several diseases.
Essential oils have many uses other than aromatherapy. Many people use them to scent their homes or freshen up things like laundry. They are also used as a natural scent in homemade cosmetics and high-quality natural products.