Top Pain Relief Insoles for Foot Comfort
In our routine lives, we often fail to give time to our body and nurture it according to our grinding schedule. This ignorance often leads to broken skin, sore muscles, dry hair as well as pain in various joints and muscles throughout the body.
Feet suffer the most. Stress, overworking, inappropriate foot wear, and inefficient exercise can cause a lot of foot ache. While it may seem trivial at first, foot ache can grow to be really painful and render you unable to perform your routine tasks.
While usually foot-pain is caused by stress or lack of exercise, if yours doesn't go away in a few days or you can see visible inflammation around your foot region, or you had a foot injury, it is best that you visit a doctor, preferably a podiatrist and get your foot checked for any internal injuries such as fracture or tissue rupture.
However, if you work for prolonged hours, especially on a job that requires you to stand or walk around a lot, you might end up with foot-ache every night. A lot of people consider soaking feet in warm water with Epsom salt to help in relieving foot pain. Many prefer foot massages and relive their feet of all the stress. But, for many with crucial jobs and duties, spa & self-pampering regimes remain just a dream and their feet continue to take the brunt of their exhaustive schedule the most.
Some more everyday doable practices to avoid discomfort to the foot include elevation exercises, pain relief insoles & the shoe of the right size. Ensuring these not only avoids discomfort but also improves any pre-existing condition of foot ache due to stress & exhaustion.
What are Pain Relief Insoles?
Pain Relief insoles are basically medicated foot insoles designed especially to provide comfort to your foot. While they are available over the counter, podiatrists also make customized insoles, more commonly known as Orthotics, which are exclusively made according to a patient's need. Orthotics could be used for long term foot issues such as correction of any foot deformities, providing support to ankle after an injury, arthritis, bunions, and heel spurs etc.
However, orthotics are only prescribed by doctors if usual methods fail to provide relief. For a more regular usage, Pain Relief Insoles, which are easily available at most athlete stores, can do the job of providing your feet much needed comfort. Typically made from gel, plastic or foam, pain relief insoles fit to the inside of your shoe and provide cushioning as well as arch support.
These insoles can be custom designed depending on the seriousness of your issue and if the insoles have been prescribed by a podiatrist. These custom designed pain relief insoles are mainly called Orthotics and are only available on doctor's prescription and are made exclusively for your foot.  Pain relief insoles are also available in pharmacies and stores without a doctor's prescription. Typically made from gel, plastic, or foam, the insoles provide arch support and extra cushioning to your feet.
Top Pain Relief Insoles on Amazon
If you have constant ache in your feet due to stress and an exhaustive work schedule, you might consider buying pain relief insoles for your shoes. While pain relief insoles are easily available over the counter, you can also order them online through Amazon or other e-commerce websites. It is true that deciding what to buy online can be quite confusing as every online search gives you hundreds and thousands of options to choose from.
We have compiled a list of the best pain relief insoles on Amazon considering their pricing, durability and the many benefits they promise, which will help you decide better on which pain relief insole suits your needs the best.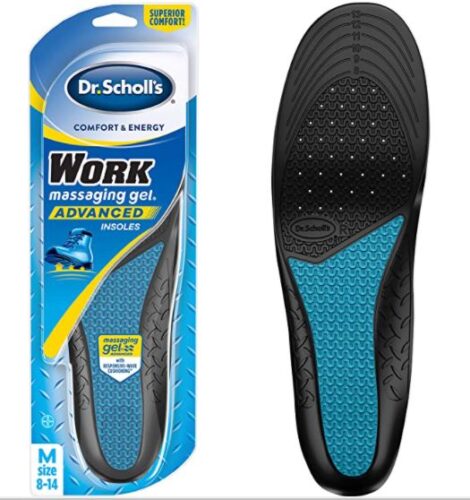 Price: $10.88
Sitting at the top of our list are Dr Scholl's Comfort & Energy Work Insoles, available for both men & women. These all day foot insoles are shock absorbent and offer a reinforced arch support, which is best when worn with work boots but also fits with other foot wear. Designed for people who are required to stand or walk around on hard surfaces throughout the day due to their jobs, these insoles are made with a massaging gel technology which provides extra cushioning and support to the feet.
Pros:
For the price, you will hardly find any foot insole which is this good.
Amazing quality of materials used, making it very durable
They can be trimmed and are large enough to fit a size 14 shoe.
Cons:
The insoles are slippery causing your feet to slide on an inclined surface, pressing against the toe.
The cushioning is quite thin and is better when you wear these underneath your original shoe insoles.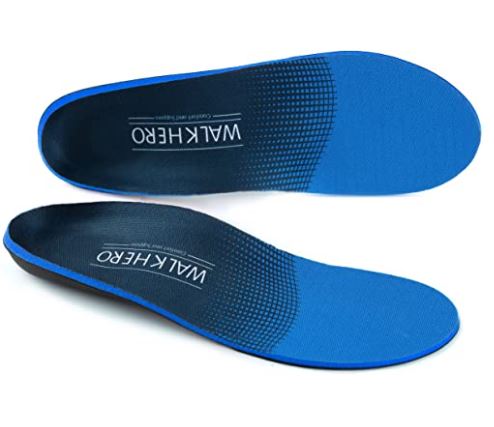 Price: $17.99
Coming in number 2 on our list are these Walk Hero Plantar Fasciitis Feet Insoles which provide additional arch support and comfort against foot aches. These inserts are also particularly great for flat feet, arthritis, heel pain & heel spurs etc. Typically made from EVA foam, these insoles have a deep heel cup which allows it to absorb heavy impact in case you jump or fall off from a height on your feet.
Pros:
The price is just perfect for all the options this Insole offers
Instant relief from plantar fasciitis and other foot discomforts like flat feet, bunions and over-pronation
Made from tough and flexible toxic-free EVA components which stabilize the temperature of your feet.
Cons:
Only suitable for feet with really high arches otherwise they can cause muscular spasms
The arch support is located right in the center and causes a bit discomfort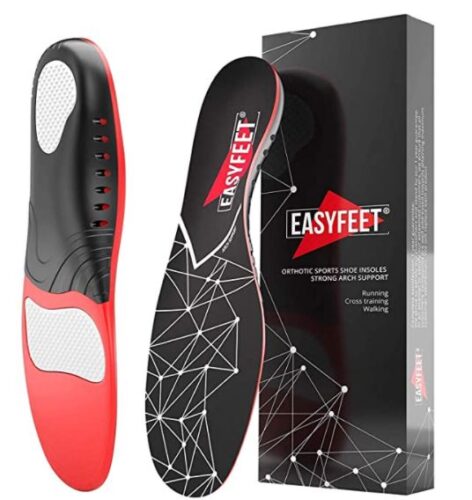 Price: $19.99
A bit on the pricey end, Easyfeet Plantar Fasciitis Arch Support Insoles are number 3 on the list and are most recommended by podiatrists. With an average 4.2 rating on Amazon, they not only help with curing foot deformities but also provide high arch support. Especially recommended for people who work 10 – 12 hours a day, Easy Feet Arch Support insoles are great for both men & women and are best suited for athletic activities such as skiing, snowboarding, working out, tennis, basketball etc.
Pros:
Made from a tough flexible plastic, these insoles can easily fit on the inside of your shoe
The insoles come with 1 year warranty
Offers arch support with its Anti Pronation Biomechanical Reinforcement technology
Cons:
Doesn't fit every shoe
The arch support might not work well for a lot of feet
A little pricier than other options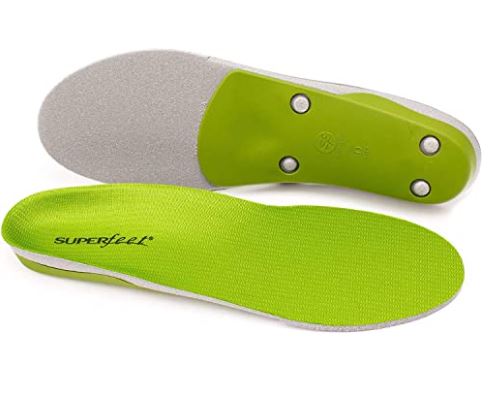 Price: $49.45
Made of professional-grade material, the Superfeet green professional insoles are best suited for doctors, nurses and any other such professional that are required to stand for long hours while on duty. These insoles are quite long lasting and despite the high-end price, they are a really good investment.
Pros:
These are high profile and high volume insoles providing sufficient amount of space for the foot to be trimmed to you size and fit inside your shoe.
They have a large deep heel cup, allowing greater arch support to your feet.
Provide added cushioning to the foot with a high density foam layer.
Cons:
Not recommended for people with smaller feet size as the heel cup might not adjust.
The product is quite pricy as compared to other similar products
Superfeet doesn't offer a refund, if the insole doesn't fit.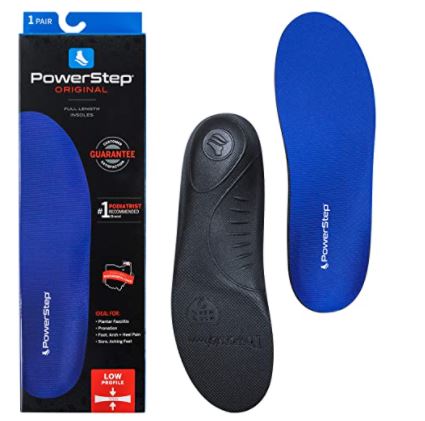 Price: $34.99
These unisex arc support insoles are best to treat foot deformities like plantar fasciitis, metatarsalgia and Morton's neuroma. Being the most recommended by podiatrists, the Powerstep insoles provide full length, total contact support. With a Variable Cushioning Technology (VCT) and durable EVA foam, these insoles are a great value for money.
Pros:
Thick cushioning protects from hard-surface impact.
Made with medical grade material which ensures durability.
Designed by podiatrists, hence making them an excellent choice of an OTC orthotic.
Cons:
Provides moderate level of cushioning
Inbuilt arch might not fit to all sizes and foot shapes.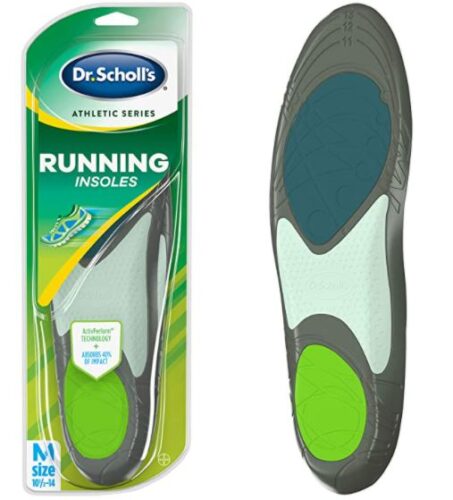 Price: $12.97
Most suited for athletes, particularly runners, Dr Scholl's running insoles offer triple zone protection and help reducing the wear and tear in your leg muscles. These insoles are easy to trim and best worn with sneakers and running shoes and are most apt for people with flat feet.
Pros:
Prevents pains from shin splints, runner's knee and plantar fasciitis
SweatMax technology reduces bad odor in foot
Return and money back guarantee with the product
Cons:
Arch support is a bit rigid
Not very comfortable for people with plantar fasciitis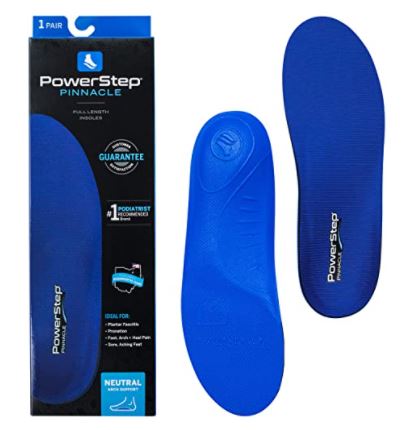 Price: $34.49
With an EVA foam and antimicrobial fabric, Powerstep pinnacle stand at number 7 on our list of top 10 best-selling shoe insoles at Amazon. In addition to the reinforced cushioning, they provide a semi rigid arch support and have a deep heel cradle to increase foot support. They are the idea insoles for foot pain relief and prevention.
Pros:
Support almost all types of arches be it low, moderate or high
Very versatile and fit a large variety of shoes but best worn with casual and work shoes
Provide a double layered cushioning to your feet
Cons:
Not the most durable and wear out in 6 – 8 weeks if worn daily
Don't work well with for athletes or professional with long hours of stress on feet.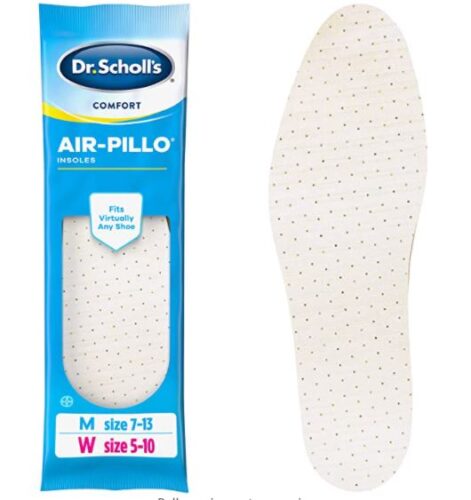 Price: $3.35
Dr Scholl's basic foot insoles for regular use, these are one of the cheapest but quite effective for ordinary physical strain. They provide extra cushioning to your feet and are best work along with the original insole of your shoe. They can be trimmed to fit with almost any shoe.
Pros:
These insoles are very inexpensive
Provide added cushioning to your feet while you work all day long
Can be worn with almost any shoe
Come with a complete money back guarantee
Cons:
These are not the insoles if you have a persisting condition of foot ache or deformity
Not very durable and sturdy, wear out in about 4 – 6 weeks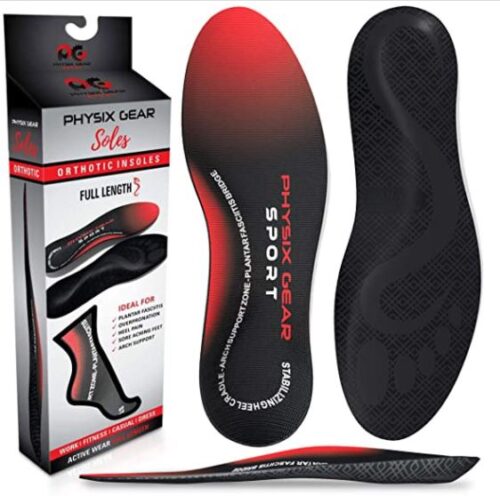 Price: $13.48
Considered one of the best insoles for plantar fasciitis, heel spurs and flat feet, the Physix Gear Sport Orthotic Inserts are a quite inexpensive and offer a robust high arch support. It is a very soothing solution for Achilles tendinitis, heel spurs and flat feet. It is made of medical grade material and is best if you work long hours on jobs that require a lot of brisk walking, or standing on hard grounds.
Pros:
Excellent to relief and avoid foot ache arising from varying foot conditions.
Slim design with added cushioning to make your feet more comfortable.
Versatile in terms of functionality and work well for athletes as well as rock climbers, doctors or regular corporate workers.
Cons:
Thin cushioning which might not work for everyone.
More suited only for wide footed men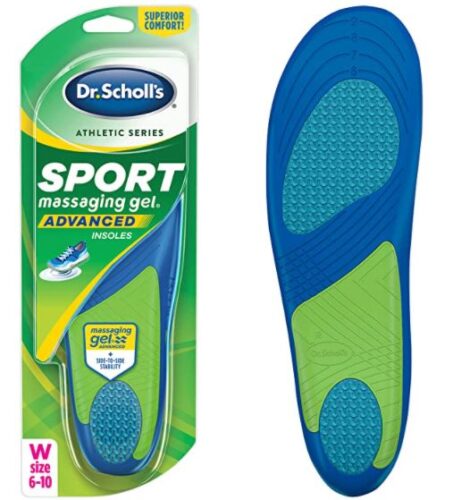 Price: $14.59
The last but not entirely the least on this list are another one from Dr Scholl. These sport insoles provide superior shock absorption and reduce muscle fatigue as well as additional stress on the joints in the lower half of the body. Meekly designed for athletes, these sports insoles have a flexible arch support and have a massaging gel technology.
Pros:
Added cushioning for your feet while you work out
Very flexible arch support
Massaging Gel Technology reduces stress on the joints in the legs while avoiding muscle fatigue.
Cons:
Only suited for athletes and not at all comfortable for ordinary wear.
Higher price in comparison to others in the same range.
Final Takeaway
While foot insoles are always a great choice to provide added cushioning and support, it is also important to wear the right and most comfortable shoes to avoid foot discomfort. With the list wrapped, you certainly know all the different insoles you could choose to buy depending on your profession as well as daily schedule. Whether you are a doctor, minor, rock climber or a simple receptionist, this list has an insole for you.