Which Of The 10 Best Posture Correctors of 2021 Are Best For You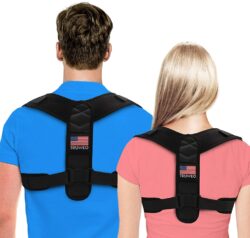 Introduction:
What is a posture corrector?
The term "posture" generally refers to a position in which any person maintains their body while sitting or standing. Thanks to our hectic lives and 9-to-5 desk jobs, more and more teenagers and adults and even children have been sitting in front of a computer for their schoolwork, office work or leisure time. And that has been really affecting our posture and even creating a lot of health issues. Slouching or sitting hunched over your phone can cause serious back and joint aches. It can even lead to degenerative joints and discs and maybe even osteoarthritis. And that is exactly where the posture corrector comes to the rescue.
Posture corrector or a posture brace is basically a device whose main objective is to help people improve their posture and maintain the body in an upright straight position.  Some are physical correctors which hold your shoulders and back in an aligned manner manually. You'll even come across applications which will send you scheduled reminders to stop slouching.
There are different styles and varieties available when it comes to posture correctors. Here are some of the popular ones-
Clavicle, chest and back support brace.
Double strap posture corrector.
Molded Upper back brace.
Longline back brace.
Magnetic back brace, etc.
Why is good posture essential?
You must have come across many benefits of having a good posture already and the hype is justified. Having a good posture makes sure you have good musculoskeletal health.  It relieves pressure on your neck, shoulders, spine and even reduces any back and neck pain, which is becoming increasingly popular nowadays. It can also boost your energy levels, help you breathe better, help you maintain a proper form during workout, improve your appearance, and so much more. By maintaining a good posture, you will also be avoiding Irreversible damage to your spine and improve your flexibility and joint movement.
However, maintaining a good posture does not only offer physical health benefits, it also has a direct link to your mental health. Studies say that people with depression and anxiety have a tendency to hunch or curl inwards. Standing or sitting upright will give you a sense of confidence and help you feel better.
Factors to consider before going for a posture corrector.
When you search for posture correctors on the web, it will show you a wide variety of results and it can actually be overwhelming. If you are searching for the correct posture corrector for you, then here are a few factors to consider.
The posture corrector should activate your muscles.
The posture corrector should focus on key areas like neck, lower back and should be effective.
Another important factor is that it should be easy to use so you do not have to rely on others to put it on or take it off.
Make sure to go for the one which fits your needs and targets the area that you need support with the most.
The most important factor is definitely comfort because if it is uncomfortable, you will not want to wear it and the efficiency factor becomes irrelevant.