Tenth Place
Amazon Echo Buds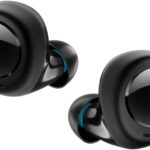 PROS:
IPX4 water and sweat resistant
Alexa, Siri and Google Assistant compatibility
Great battery life of up to 5 hours
Bose Noise Reduction Technology that cancels ambient noise
Secure ear fit
CONS:
There are not fitness related features unlike other options in the same price range
These earbuds are not waterproof
They do not offer wireless charging
Synopsis:
Offering an immersive sound, Alexa connectivity and active noise reduction technology, the Amazon Echo Buds are great value for money among the high end pricey earbuds available in the market. These also support access to Siri and Google Assistant and boast a good battery life of up to 5 hours. These earbuds are sweat resistant and have a sealed in ear design and secure fit that makes them convenient.
Price: $129
Sorry, we couldn't find any posts. Please try a different search.