Decibullz Custom Molded Earplugs
Tenth Place
Decibullz Custom Molded Earplugs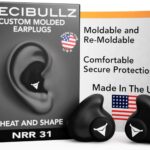 PROS:
Easily moldable and reusable
Heavy noise reduction rate of 31dB
CONS:
Doesn't cancel all ambient noise because most buyers prefer setting it up
Synopsis:
These custom molded earplugs offer noise reduction rating of 31dB and are very comfortable to wear. They help in reducing ambient noise and eventually helping you sleep. Due to their moldable material, the Decibullz Molded Earplugs are probably the first earplugs that can be custom made according to your ear size. All you got to do is heat the thermoplastic molds in boiling water, let them dry and then shape them according to your ears.
Price: $9.79