Dr Scholl's Comfort & Energy Work Insoles
Winner
Dr Scholl's Comfort & Energy Work Insoles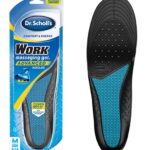 PROS:
For the price, you will hardly find any foot insole which is this good.
Amazing quality of materials used, making it very durable
They can be trimmed and are large enough to fit a size 14 shoe.
CONS:
The insoles are slippery causing your feet to slide on an inclined surface, pressing against the toe.
The cushioning is quite thin and is better when you wear these underneath your original shoe insoles.
Synopsis:
Sitting at the top of our list are Dr Scholl's Comfort & Energy Work Insoles, available for both men & women. These all day foot insoles are shock absorbent and offer a reinforced arch support, which is best when worn with work boots but also fits with other foot wear. Designed for people who are required to stand or walk around on hard surfaces throughout the day due to their jobs, these insoles are made with a massaging gel technology which  provides extra cushioning and support to the feet.
Price: $10.88