J.LUMI Motion Sensor with Light
Seventh Place
J.LUMI Motion Sensor with Light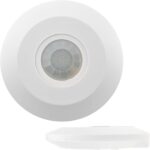 PROS:
Quite inexpensive and durable
Features a light that can be triggered on
Offers 360 degree motion detection for up to 50 ft
Slim and compact design which makes it unnoticeable
CONS:
Only IP22 resistant and thus better suited for indoor use only or near covered spaces on your front or garage door
Synopsis:
The perfect equipment to ensure safety of your home, the J.LUMI motion sensor with light can provide motion detection of up to 50 ft triggering the light on if someone is nearby. The light sensitivity and delay is adjustable and best for use near your front door or indoors near kitchen or main home entrances. It is a ceiling mounting device with a slim design and a PIR sensor which ensures 360 degree motion detection. It uses infrared signals to identify moving objects has a built in photocell. It can also be connected to an alarm to trigger a warning in case some suspicious activity is sensed.
Price: $11.99