Kuyax Reusable Silicone Earplugs
Ninth Place
Kuyax Reusable Silicone Earplugs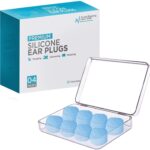 PROS:
Noise reduction rating of 27dB
Washable and reusable multiple times
Compact and easy to fit inside the ear canal
CONS:
If not cared for properly, they could leave remnants inside the ear canal which can ultimately cause ear infection
Not suited for people with big ears
Synopsis:
The reusable Kuyax silicone earplugs have a standard noise reduction rating of 27dB which is good enough to block out noise from a snoring partner or a loud neighborhood. These earplugs are made of high grade silicone and can be used multiple times, washed and then used again until the paid wears out. They are very comfortable to wear and easy to use. Due to their smaller size, they fit inside the ear canal and are particularly very suitable for side sleepers.
Price: $9.79