Magnasonic LED Pocket Projector
Eighth Place
Magnasonic LED Pocket Projector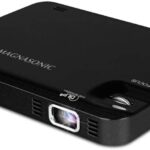 PROS:
Very low price
Video output is good
Built in rechargeable battery
Sleek design
Long lamp life
CONS:
Soft audio
Blurred text in images
Low resolution and brightness level
Synopsis:
The megasonic LED pocket projector is another budget friendly projector that offers a great video output and a good built in rechargeable battery. It has a sleek design and an output which is good enough to keep you entertained. Standing at number 8 on the list, this projector is available for only $149 and offers great value for the money.
Price: $149.99