Seventh Place
Powerstep Pinnacle Insoles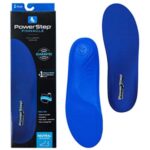 PROS:
Support almost all types of arches be it low, moderate or high
Very versatile and fit a large variety of shoes but best worn with casual and work shoes
Provide a double layered cushioning to your feet
CONS:
Not the most durable and wear out in 6 – 8 weeks if worn daily
Don't work well with for athletes or professional with long hours of stress on feet.
Synopsis:
With an EVA foam and antimicrobial fabric, Powerstep pinnacle stand at number 7 on our list of top 10 best-selling shoe insoles at Amazon. In addition to the reinforced cushioning, they provide a semi rigid arch support and have a deep heel cradle to increase foot support. They are the idea insoles for foot pain relief and prevention.
Price: $34.49