Sensi Emerson Smart Thermostat
Ninth Place
Sensi Emerson Smart Thermostat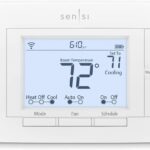 PROS:
Energy and Cost efficient
Compatible with most heating and cooling systems
Offers Geofencing as well as flexible scheduling of heat and cool systems
Compatible with Alexa and Google assistant
Great value for money
CONS:
Doesn't include or work with temperature sensors
Shabby design and basic user interface
Synopsis:
Another budget friendly thermostat on the list, the Sensi Emerson Smart Thermostat is energy star certified and offers compatibility with Amazon Alexa as well as Google Assistant. It allows you to save up to 23% of HVAC energy with its amazing features of geofencing, flexible scheduling, remote access and monitoring through the app.  It is very convenient to install and works with multiple heating and cooling systems found in homes. With all these options, this unit is great value for money.
Price: $79.00
Sorry, we couldn't find any posts. Please try a different search.