Tenth Place
View Sonic M1 Mini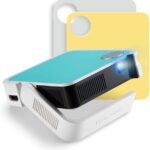 PROS:
Simple yet innovate stand
Interchangeable top panel in 3 colors
Supports videos, images and audio in varying formats
CONS:
Average projection size of videos
No control panel on the device
Remote is too small
Synopsis:
The last one on our list, but certainly not a bad choice is the View Sonic M1 Mini projector at a price similar to Megasonic and AAXA projectors. It has a simple and innovative stand and support video, audio and image output in varying formats. This projector is highly portable and it balances off the low resolutions with a cleverly designed stand, good image and video output and its ability to play music files.
Price: $149.99