beFree Sound Luxury Home and Office 5.1 Channel Surround Sound Bluetooth Speaker System with 5 Speakers, USB Input, FM Radio and Wood Finish Accents
Eighth Place 2017
Home Theater Surround Sound Systems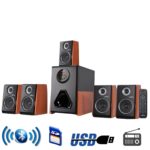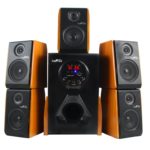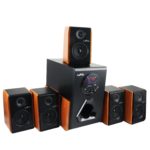 PROS:
Easy to setup
Nicely designed and finished
Excellent value for money
Great sound
Easily connects to TV
CONS:
Wires not long enough for large rooms
Synopsis:
The Befree Sound Luxury Home is a 5.2  surround sound Bluetooth speaker. It has a very easy sound. It comes with many features like Bluetooth USB, SD, FM- radio capabilities and gives you the best listening options for your enjoyment. This product is easy to use and medium quality. This product is decent for the price but just didn't make it in out top 5 products and full fill what we were looking for, it just doesn't quite fill up large rooms, best suitable for smaller rooms. This a good product for anyone looking for a  simple home theater setup!