Withings Wireless Blood Pressure Monitor
Sixth Place 2019
Blood Pressure Monitor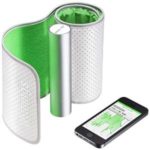 PROS:
Wireless
No screens
Universal cuff size
Downloadable memory via phone
CONS:
No detection of irregular heartbeat
Difficult in use for elderly patients
Very expensive
Synopsis:
Though the device looks really cool and something from the future but it comes on number 6 in our list. The reason is that it is beyond its time. Though it has cool features like being wireless, no screen, only a cuff with sensors in it and usable via smart app with unlimited memory but it has its own cons such as the device is very expensive at a rate of $150. Moreover it cannot detect any irregular heartbeat and is not suitable for elderly people as they might have difficulty in understanding a smartphone app. Moreover it feels fragile.