Bose SoundLink Micro Bluetooth Speaker
Ninth Place
Bose SoundLink Micro Bluetooth Speaker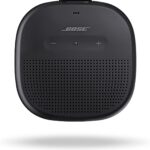 PROS:
Support connectivity to Google Assistant and Siri allowing you to virtually access your phone
This speaker provides you an option to take calls directly through the speaker and the voice output is great.
Remembers at least eight recently paired devices
Water resistant and sturdy
Very light weight and easy to carry around
CONS:
The battery life is only limited to 6 hours
The sound quality is average
The strap is inconvenient to use
Synopsis:
Smaller in size and offering a very crisp sound output, the Bose SoundLink Micro Bluetooth Speaker is very portable and weighs less than a pound. It is best suited for outdoors and can be your perfect choice for a day at the beach or a camping night. You don't even have to worry about water splashes while you carry it around the beach, because this little speaker is also water resistant. It offers up to 6 hours of playback time and also allows you to take calls virtually.
Price: $99
Sorry, we couldn't find any posts. Please try a different search.