Cooluli Classic Cooler & Warmer
Fifth Place
Cooluli Classic Cooler & Warmer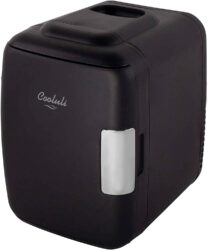 PROS:
Semi-conductor operations make it energy efficient
Thermoelectric system provides both heating and cooling options
Can hold up to 12oz cans and a food container as well
Additional compartment in the door to store sauces and sachets
Portable and can be plugged in with a USB cable as well as an AC/DC wire
CONS:
Some customers complained about the durability of the mini fridge saying it only lasted for a few months before suddenly breaking down
Synopsis:
The Cooluli Classic 4L fridge is super compact and great for use in dorm rooms. It has a sleek design and a matte finish. Very lightweight, the fridge measures  7.25" in width, 10.25" in Depth and 10.75" in height. It has convenient shelving allowing easy storage of drinks, snacks and sauces and the compact size allows it to fit just anywhere, be it under a shelf or under the table to save up all the space in your dorm room. The brand also advertises it as the perfect mini fridge to store skincare products as well as medicines such as insulin. It is ultra-quiet and its unique semi-conductor operations also make it energy efficient. The fridge also conveniently works as a warmer, so you might simply not buy yourself a microwave and just get the Cooluli classic.
Price: $49.99