Fifth Place
Govee Motion Sensor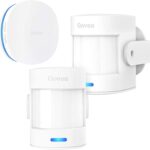 PROS:
Offers a detection range of 50 ft and receiver range of 328 ft.
Best for use both indoors and outdoors
Features a light that can be triggered on to notify of intruders
CONS:
Some users complained that the range between the sensor and receiver isn't as good as the product claims
The unit heats up
Synopsis:
The Govee motion sensor alarm sits at number 5 on our list of the best motion sensors available at Amazon and offers motion detection up to 328 ft. This excessively large motion detection range makes it the perfect choice for installation outdoors and to detect any suspicious activity in or around your property. It can be installed near your front door or the garage door and has a high 110 db alarm with LED indicators. You can customize the alarm chime or the volume which has 5 adjustable ranges. The receiver also has a flashing blue LED lights to warn you of intruders or visitors.
Price: $29.99