Costway Compact Refrigerator
Fourth Place
Costway Compact Refrigerator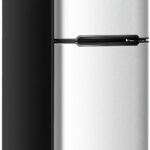 PROS:
Separate freezing compartment
Great wall integrated drink storage space
Crisp drawer and adjustable shelves to suit your needs
Wide angled LED lights
The door has a PVC antibacterial seal to keep your food fresh
Excellent value for money
CONS:
Relatively expensive
Some customers complained that the fridge makes considerable noise when kept inside a room
Synopsis:
Better for slightly bigger spaces, the Costway compact refrigerator is 2 door with a separate 0.95 cubic ft. or 27L freezing compartment and a cooling compartment of 2.25 cubic ft. or 63L. It is excellent value for money and provides even and efficient cooling. It is extremely durable and very quiet and thus a great addition to a dorm room. The cooling compartment has a crisp drawer for your fruits and vegetables 2 adjustable shelves. The door has an integrated beverage storage space which can hold up to 12 cans of beverages.
Price: $219.99