Epson VS240 SVGA 3LCD Video Projector 3000 Lumens Color Brightness
Sixth Place 2017
Video Projector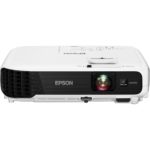 PROS:
Affordable
Good Quality Picture
HDMI Capabiltiies
Easy Operation
Size&Portability
COMPATIBILITY & CONNECTIVITY
Synopsis:
The Epson VS240 SVGA 3LCD Projector 3000 is a pretty good projector and is good quality. We feel the price for this projector is a bit much. Easy to use and the picture quality is very clear and bright good on light and dark backgrounds. We do not recommend this projector for regular everyday use we have experience as well as many other consumers various noises, compatibility with other brands, and some have experienced the lamp blowing out after a short period of time. This projector uses one cable that supports HDMI connectivity, for digital video and audio. According, to the consumer rating many people have found a liking in this projector. This a product is great for simple business usage!