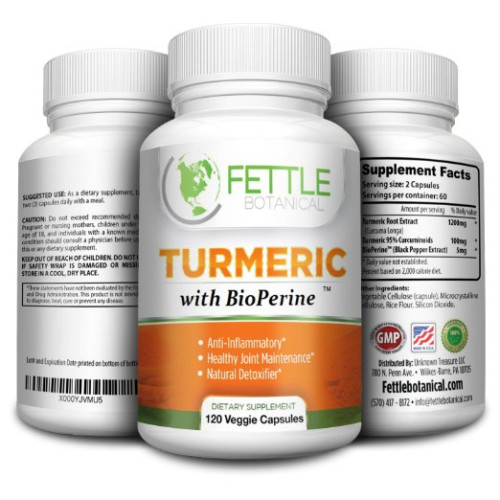 Fettle Botanical Turmeric
Ninth Place 2017
Turmeric Supplement

PROS:
High Quality
Vegetarian
Safe to use
CONS:
The smell is a little overwhelming
Cost per pill pricey
Synopsis:
Coming in at #9, Fettle Botanical Turmeric is priced at $19.68 for 60 1300mg vegetarian capsules, they are GMP certified, with Bioperene (5mg). Made using only ingredients that are 3rd party tested for purity and quality. There are no artificial fillers, binders, flavorings, or colorings. This product price point vs its quality is just not cost friendly at all. Though the quality is very good we can say in comparison with other top products the price per pill is much higher in cost with such a small amount of servings. Just doesn't make this one of the top runners. According to consumer rating many have found this product to help with digestion, inflammation, pain, minor aches, etc. We should expect this to be a good product due to its cost per pill.