Epson Powerlite Wireless Projector
Sixth Place
Epson Powerlite Wireless Projector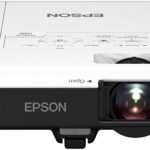 PROS:
Ultra-light and slim design
Good video and image output quality
Wireless connectivity through both WiFi and Bluetooth
LCD projector has a long lamp life
1080p resolution
CONS:
Very pricey
Doesn't support 3D content projection
Synopsis:
Epson's PowerLite 1795F Wireless Full HD 1080p 3LCD Projector, is thin, light, and bright and offers a 1080p resolution which is great. It is a highly portable model good with data-heavy media and excellent with video, but packing soft audio. Even though it's the most expensive mini projector on our list, this can double as both Bluetooth speaker as well as a standalone entertainment device as it allows TV tuning enabling you to watch your favorite shows directly. The projector has a slim design and offers wireless connectivity through both WiFi and Bluetooth.  Even though it doesn't support 3D projection, the projector is great value for money.
Price: $906.00