Haier Compact Mini Fridge
Sixth Place
Haier Compact Mini Fridge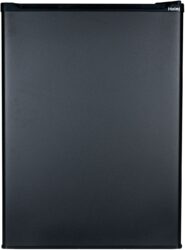 PROS:
Very spacious for a mini fridge
Separate freezing compartment which allows storage of frozen food or ice-cubes
Can dispenser on the door for convenient storage
Energy Efficient
CONS:
The motor makes a little bit of noise.
Synopsis:
Haier is a brand name synonymous with quality and durability. The Compact Mini Fridge by Haier has a top freezer as well as a cooler with plenty of storage. It has well defined storage spaces for bottles, boxes and fruits and has door bins as well as a full crisper drawer. The door also has a can dispenser integrated to it while the glass shelves in the cooling unit are adjustable and can be complete removed if you need more space. It is energy efficient and has a sleek design that adds value to the interior of your dorm.
Price: $267.55