Honeywell Home Thermostat
Third Place
Honeywell Home Thermostat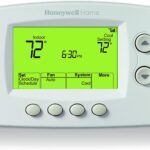 PROS:
Quite inexpensive
Support amazon Alexa, Google Assistant, IFTTT and Samsung SmartThings
Quite durable and easy to install
CONS:
Very basic design with a simple digital display
Synopsis:
The Honeywell Home Thermostat is a great choice for those on a budget.  Offering almost the same features as other high end smart thermostats for a much lesser price, Honeywell sits at number 3 on our list of the top smart thermostats for your home. It offers Google Assistant and Amazon Alexa compatibility and allows temperature control through voice commands. It can conveniently integrate with other smart appliances at home and function collectively for a convenient and smart living.
Price: $76.43
Sorry, we couldn't find any posts. Please try a different search.