Eighth Place
Insignia Mini Fridge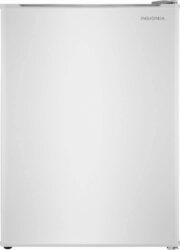 PROS:
Reversible door hinges
Compact easy to place anywhere
Small freezer compartment included
Thermostat control
CONS:
Can be a bit noisy at times
Can be too small for students who cook for themselves and store food
Synopsis:
The sleek 2.6 cubic feet mini fridge by insignia is compact enough to fit in any space in your dorm room and offers enough space to store beverages, ingredients and snack boxes. It also has a small freezer compartment and a thermostat control          which makes it great value for the money. It has a reversible door which makes it easy to set up wherever you want.
Price: $99.99