KOIOS Oxasmart 12-Speed Immersion Hand Blender
Fourth Place
KOIOS Oxasmart 12-Speed Immersion Hand Blender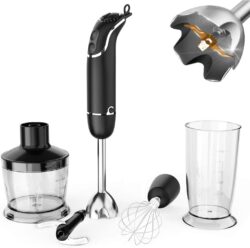 PROS:
Ergonomic design promising good grip
Stainless steel sharp blades able to cut through potatoes, carrots and meat alike
Powerful 800 watt motor
12 varying speed adjustments
Comes with mixing bowl, whisk and food processor attachments
Great value for money
CONS:
Some customers complained over heating of the unit with just 30 seconds of continuous blending.
Synopsis:
With multiple attachments and an easily removable arm, the KOIOS immersion blender offers 12-speed dial giving you varying speed options depending on your needs, and has titanium plated stainless steel shaft and blending blade which promises durability and efficient blending without leaving any trace of fibers or grains. The powerful 800 watt motors gives it enough speed and strength to cut through the toughest ingredients in your soups or smoothies. Its ergonomic design makes it easy to grip and use and doesn't put much stress on the user's wrists or fingers. It is quite small in size and can easily fit in kitchen drawers and cabinets without taking much space. The blender also has an additional turbo mode which furthers its great speed and agility at blending ingredients together.
Price: $39.99