LUXFURNI Makeup Lightning Mirror Wall
Tenth Place 2021
LED Mirrors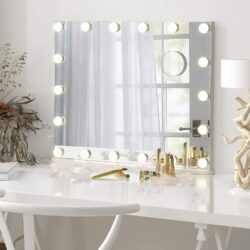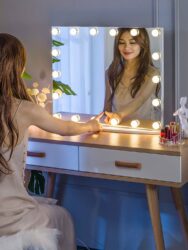 PROS:
It is an amazing mirror with bright lights
The lights have different tones and adjustable brightness
Great auto switch-off timer
Solid quality and easy setup
Magnification feature
Affordable
CONS:
It is heavy so needs care when wall mounted
Synopsis:
The LUXFURNI makeup mirror gives a luxurious look to your vanity room. It provides a clear upper-body view. For different occasions, you can choose from the different color intensities and brightness. Equipped with 18 bulbs, the temperature ranges from 3,800K to 6,500K. The touch control allows you to adjust the brightness up to 2090 Lumens. There is a 15-minute auto turn-off feature to save energy.
You would not need to replace the bulbs as they have a lifespan of more than 80,000 hours. Also, there is an in-built memory function. It is the best gift for makeup lovers.
Sorry, we couldn't find any posts. Please try a different search.