Midea Compact Refrigerator
Second Place
Midea Compact Refrigerator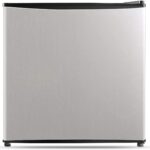 PROS:
Excellent value for money
Reversible door and adjustable legs making it convenient to place anywhere
Very durable and compact
Comes with a small icebox for storage of icecream
CONS:
Icebox isn't strong enough to form ice cubes or storing frozen foods
Fairly expensive
Synopsis:
Sitting at number 2 on the list, the Midea Compact Refrigerator is available at a slightly lesser price and perfect for tight spaces. It has adjustable legs and a revisable door which can be opened from both the left side and the right side. The door has shelves integrated to hold bottles and cans and has an exclusive large bottle storage compartment. It has a really small icebox, just the right size to store some ice cream. It is super quiet and very convenient to use. It's compact and durable design makes it the perfect fit for dorm rooms and especially great if you are buying your first mini fridge for your first dorm experience.  The storage space is large enough to save several soda bottles, fruits, snack boxes,  jams and butter.
Price: $363