Mueller Ultra Stick 500Watt Immersion Blender
Winner
Mueller Ultra Stick 500Watt Immersion Blender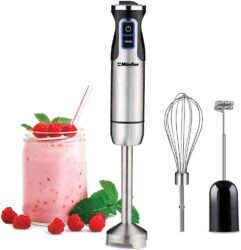 PROS:
Powerful blending speed
Non-slip ergonomic grip
Very easy to clean
Sleek design and lightweight
CONS:
Some customers reported that the unit only lasted for a year or above and hence questioned the reliability of the unit.
Synopsis:
A powerhouse in itself, the Mueller Ultra Stick is small but quite mighty and offers an excellent value for money. It comes with 2 attachments including the whisk and the milk frother, and has a heavy duty copper motor and blades made of stainless steel. Whatever you throw at, this ultimate blender can handle it all and chop/blend it in seconds. The best thing about this immersion blender is that it doesn't overheat or vibrate intensely. The copper motor allows it to go on for prolonged period without heating or smelling like cheap electric motors. Many reviewers said they were concerned about the quality of this immersion blender given the price and were expecting it would be cheaply made, but were suprisde to see the great quality and durability this one promises. This hand blender is best for making soups, smoothies, purees, salsa, pesto, pancakes as well as whipping creams and whisking eggs.
Price: $34.99