Physix Gear Sport Full Length Orthotics Inserts
Ninth Place
Physix Gear Sport Full Length Orthotics Inserts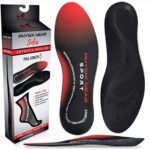 PROS:
Excellent to relief and avoid foot ache arising from varying foot conditions.
Slim design with added cushioning to make your feet more comfortable.
Versatile in terms of functionality and work well for athletes as well as rock climbers, doctors or regular corporate workers.
CONS:
Thin cushioning which might not work for everyone.
More suited only for wide footed men
Synopsis:
Considered one of the best insoles for plantar fasciitis, heel spurs and flat feet, the Physix Gear Sport Orthotic Inserts are a quite inexpensive and offer a robust high arch support. It is a very soothing solution for Achilles tendinitis, heel spurs and flat feet. It is made of medical grade material and is best if you work long hours on jobs that require a lot of brisk walking, or standing on hard grounds.
Price: $13.48