Bosch Connected Control Thermostat
Fifth Place
Bosch Connected Control Thermostat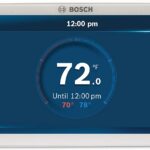 PROS:
Easy to use interface
Allows connection to unlimited number of thermostats and manage up to 4 schedules per thermostat
Saves cost and energy both by using pre-defined schedules to control heating/cooling
Duel Fuel systems compatibility
CONS:
Doesn't include motion sensors
Doesn't have geofencing capabilities
Synopsis:
With a modern sleek touch screen, and internet connectivity, the Bosch connected control thermostat is Alexa enabled and works to conserve energy as well as money. It enables cross device connectivity including multiple heat and cool pumps, dehumidifiers & humidifier, as well as heat pumps. The device has extensive features, which allow the control of various connected devices and is compatible with Duel Fuel systems such as HVAC.
Price: $144.18
Sorry, we couldn't find any posts. Please try a different search.