Polk Audio TL1600 5.1 Compact Home Theater System
Third Place
Polk Audio TL1600 5.1 Compact Home Theater System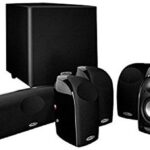 PROS:
Quite inexpensive for the quality of sound and features

Comes with color coded cables

Delivers quality output
CONS:
Analogue input only

Cannot be wall mounted

No WiFi connectivity
Synopsis:
The Polk Audio Compact Home Theater System with a powerful subwoofer has a TL1 satellite aperiodic-tuned rear port which allows the speakers to blend better with the subwoofer.  With 50 watt average and 100 watt peak Amp, the speakers deliver a power output blended with a down firing heavy bass subwoofer. The system was first launched in 2010 and has been selling successfully for 10 years and is considered one of the favorite choices in affordable surround sound systems.
Price: $219.98
Sorry, we couldn't find any posts. Please try a different search.