Ninth Place 2017
Yoga Mat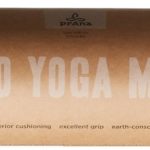 PROS:
Decent Quality
Safe Product to use
Easy to Clean
CONS:
Not good under sunlight
Light Smell
Needs frequent washing
Synopsis:
Prana eco yoga is a pretty decent quality product and comfortable. However, theirs been a concern about how slippery it is when used. A friend started doing Yoga(prenatal), which doesn't consist of exertion or sweat, and she stated she was slipping all over the place. She found the cheaper yoga mats at the gym worked much better. This mat would work if you prefer to use a towel or have absolutely no sweat on your hands or feet. Overall, this product is liked by many, but in deeper research, many have found this product to feel more like fabric than like " plastic". Choosing this product would definitely depend on consumer preference!