Mack's Dreamgirl Soft Foam Earplugs
Sixth Place
Mack's Dreamgirl Soft Foam Earplugs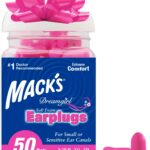 PROS:
High Noise Reduction Rating of 30dB
Molded with super low pressure, their unique hollow design and small size makes them the most comfortable earplugs for sleeping
CONS:
Only fit for smaller ear canals, particularly women's
The hollow design impacts noise reduction significantly
Synopsis:
Widely recognized as the most recommended brand for earplugs by doctors, Mack has an earplug for everyone. The Dreamgirl soft foram earplugs are relatively smaller in size for smaller ear canals and offer greater comfort and fit. They have a silky smooth texture and offer a high Noise Reduction Rating of 30dB. These earplugs are equally awesome for both sleeping or studying as they cancel out most ambient noise and allow you to focus.
Price: $9.79