Pranamat Eco Therapeutic Massage Set
Eighth Place
Pranamat Eco Therapeutic Massage Set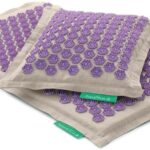 PROS:
Light weight and easy to carry
Exclusively designed for people who travel frequently
Helps combat stress and sore muscles effectively.
CONS:
The mat is way too expensive
It is difficult to clean and wash this mat
Synopsis:
This therapeutic massage mat by Pranamat is a on the pricier end but offers targeted relief to the sore muscles of the body. It stimulates blood circulation and accelerates the body's mechanism to combat shooting pains. It comes with an equally effective pillow which helps relieving neck and shoulder pain. Exclusively designed for travelers, the Pranamat therapeutic massage set is light weight and quite easy to carry.
Price: $275.00