Robostir Automatic Pot Stirrer
Seventh Place
Robostir Automatic Pot Stirrer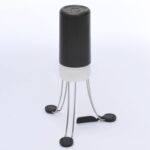 PROS:
Waterproof and dishwasher friendly
Very inexpensive
Completely hands-free model
CONS:
Flimsy appearance
Short battery life
Quite noisy & vibrates the pan and the stove
All 3 speeds are almost the same when the consistency rises in gravy
Synopsis:
A completely waterproof and dishwasher safe product, the Robostir Automatic Pot Stirrer offers a very durable solution that can withstand heat up to 572 F. It works with AA cell batteries which can be replaced with rechargeable batteries. It is very easy to set up and works at a moderate speed. It is best for pots and pans ranging from 4 – 7 inches in depth. It prevents the gravy at the bottom of the pan from burning.
Price: $24.00