Rockville HTS56 1000w 5.1 Channel Home Theatre System
Fourth Place
Rockville HTS56 1000w 5.1 Channel Home Theatre System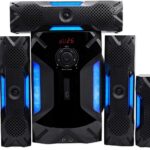 PROS:
Complete surround sound system with 7 connected speakers

Zero distortion in audio

8" subwoofer

Detailed Equalizer presets for improved sound

Efficient amplifier with top components

Bluetooth connectivity for direct streaming
CONS:
Doesn't support optical audio connection
Synopsis:
The 7 piece Rockville channel home theatre system has a front loading CD/DVD player, FM Radio, and a USB port. It has a 1000W powerful speaker and 6 smaller speakers to be placed around the room for surround sound. The set comes with 7 speakers in total, out of which the larger one is the main control hub for speaker volumes as well as equalization. In the set of 7, there's also an 8" sub-woofer and a digital display. It supports SD cards up to 16 GB. It also offers Bluetooth compatibility for wireless music streaming. It has the standard rotatory knob for volume control as well as equalization. It has an inbuilt blue digital display.
Price: $219.99
Sorry, we couldn't find any posts. Please try a different search.