SAKI Automatic Pot Stirrer
Fourth
SAKI Automatic Pot Stirrer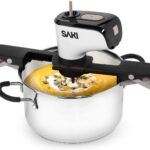 PROS:
Works with all types of ingredients
Adjustable design makes it best suited for pots and pans of varying sizes
Made of food-grade materials
Quick recharge
Two different speed settings
Synopsis:
Considered the best hands free pot stirrer in the market, the SAKI automatic pot stirrer has a modern and aesthetic appeal which blends well with modern kitchens. With 2 clamps on either side, it functions similar to the Ardente Gourmet Pot Stirrer but unlike Ardente, this one doesn't necessarily have to attach to the pot handles and can simple clamp to the pot sides and sit on the top of your pan. This is best pot stirrer to fit to your kitchen if you have pots and pans in varying sizes. The adjustable design of SAKI automatic pot stirrer allows it to clamp to pot and pans ranging between 6 and 10 inches in diameter and 4 to 8 inches in height. It has BPA free stirrers. With a cordless design, it functions on rechargeable batteries and offers 2 different speed settings.
Price: $58.12