Slendertone Women's Waist trimmer
Seventh Place 2019
Ab Belts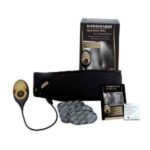 PROS:
30-day toning plan
Rechargeable hand-held controller
7 toning programs
99 levels of intensity
Cool down function
Synopsis:
Our next product is slender tone ab belt for women. This belt has a 30 days toning plan following which you can change your tone in 30 days. It comes with a rechargeable controller with which you can change intensity up to 99 levels and toning programs up to 7 levels. It also has a cool down function. The only problem is that it is designed for women only.