Spear & Jackson Oscillating Sprinkler
Fifth Place
Spear & Jackson Oscillating Sprinkler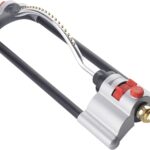 PROS:
Highly durable all metal built
Sturdy brass nozzles
Great reach
Quite expensive
CONS:
Doesn't work on moderate or low water pressure
Synopsis:
This strong, durable and rust proof oscillating sprinkler is highly resistant to temperature variations. It has an all metal body made of high quality brass. The oscillation tube has 18 sprinklers. It is incredibly well made and feels like it will last a life time but it has a simple sliding switch to control the oscillation which has a positive click and a small dial to increase/decrease the range. The spray arch is much more even and it does not keep stopping
Price: $47.04
Sorry, we couldn't find any posts. Please try a different search.