StirChef Saucepan Stirrer
Fifth
StirChef Saucepan Stirrer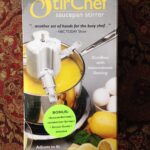 PROS:
Intermittent stir settings
Removable stainless steel shaft & heat resistant paddles
Dishwasher friendly
Versatile
CONS:
Design flaw as top mounting causes it to overheat
Speed is not adjustable
Synopsis:
A bit on the pricey end, the StirChef Saucepan stirrer offers hands-free stirring at its best. Working in a principle similar to Ardente and SAKI, the StirChef Saucepan Stirrer mounts on the top of the pan only that instead of 2 clamps, this one uses 3 clamps which are adjusted to sit on the rim of the saucepan.  It is best suited for pans and pots ranging from 6" to 8.5" in diameter and are thus considered one of the most versatile automated saucepan stirrers. Due to its top mounting design, the product often gets too hot and cannot be removed from the pan before it cools down considerably. It has 3 different heat resistant paddles. Both the shafts and the paddles are removable and dishwasher friendly.  The product also offers intermittent settings allowing you to put a timer which enables the stirrer to run at specific intervals. This feature makes it best suited for slow cooking gravies.
Price: $65.49