StirMATE Smart Pot Stirrer
Second
StirMATE Smart Pot Stirrer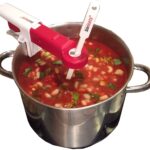 PROS:
Sweeps the bottom of the pan and prevents burning
Exceptionally good battery life of 13 hours
Compatible with extensions which can be purchased separately to add more versatility
Quiet operation
CONS:
Attachments sold separately
No speed adjustment settings
Not suited for thick sauces
Synopsis:
Rated the second best on Amazon's Editor's Choice List and generally considered the favorite automatic pot stirrer, StirMATE smart pot stirrer is a versatile model with a revolutionary design. Unlike traditional pot stirrers which sit inside the pot or are hand held, StirMATE smart pot stirrer clamps to the rim of the pot and offers adjustments to be compatible with pots having a depth of 3 to 9 inches and width of 6 to 12 inches.  Since it is clamped to the side, there is considerable space on the bottom of the pot, which gives this pot another defining feature which sets it apart from the rest. Unlike any other automatic stirrer, this one lifts the heavier content of the gravy settled at the bottom, to the top, in a folding pattern, preventing the bottom from scorching or burning, while evenly distributing the ingredients. The stirMATE model has a cordless design with an exceptionally good rechargeable battery which runs for up to thirteen hours. On top of it, the battery only takes about 30 minutes to fully recharge. The StirMATE Smart Pot Stirrer is just the right tool for you if you are big on making stews and gravies. You can slow cook your dishes without worrying about stirring every now and then since StirMATE is there to rid you of your worries and give you a gravy/soup with perfect consistency.
Price: $64.85