Sunny Health & Fitness SF-T7603 Motorized Treadmill
Third Place
Sunny Health & Fitness SF-T7603 Motorized Treadmill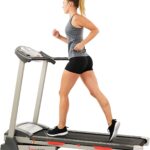 PROS:
Durable steel frame
Requires little maintenance
Affordable price
Excellent quality
Low power consumption
CONS:
It doesn't come with a battery holder.
Synopsis:
The SF-T7603 is one of the latest treadmill models from Sunny Health & Fitness for the year 2016. In reality it is not really different from the older model, the Sunny SF-T4400. It is one of the most affordable electric treadmills you can find at the current moment with an extremely easy-to-operate computer.
One of the finest aspects regarding this treadmill is that it comes almost fully assembled. The upright posts and the console are assembled and attached to the deck, but not held in place. Once you get your hands on the treadmill, you need to unfold it, then add several bolts and covers to completely assemble its joints in place. The deck is durable enough to support users with weights up till 100kgs for jogging and running.
Price: $339.95
Sorry, we couldn't find any posts. Please try a different search.