UÜTENSIL Stirr – Unique Automatic Pan Stirrer
Winner
UÜTENSIL Stirr – Unique Automatic Pan Stirrer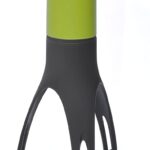 PROS:
Lightweight
Silicone base doesn't scratch the pan while mixing
Best for mixing gravies, sauces, porridge and soups
Removable and dishwater-safe legs
Inexpensive and Durable
Compact & portable design
Wireless and battery operated
CONS:
Plastic legs can only bear up to 120 degrees of heat
Struggles to move through heavy or sticky food
The leg length is average making it difficult to us in deep pots
Batteries not included
Synopsis:
With a futuristic design and a price that beats all, UUTENSIL Stir's Unique Automatic Pan Stirrer is also the Amazon's editor choice stirrer and best for use at home. While it has all the features that every other pot stirrer might have, what sets it apart is the striking design and legs made of plastic instead of stainless steel. You might think this works in its disadvantage, it really doesn't. The lightweight plastic legs make it possible for the motor to amplify the speed allowing the legs to conveniently power around the liquid. The design is compact and portable which makes it quite handy during a messy kitchen hour. Powered by 4 AA batteries, this stirrer promises a runtime of 4 hours. If you are into making a lot of soups and gravies, either you invest in rechargeable batteries once or continue spending a fortune on disposable ones. The model offers three different stirring speeds making the product compatible with different types of gravies.
Price: $30.95