Walsh Compact Refrigerator
Seventh Place
Walsh Compact Refrigerator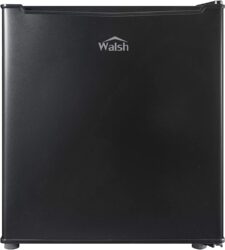 PROS:
Adjustable mechanical thermostat control
Sleek and modern design exclusive for dorm rooms and offices
Reversible door and leveling front legs
Uses R600 which is energy and environment friendly refrigerant
CONS:
Doesn't have a separate drawer for vegetables or fruits.
Synopsis:
One of the most advanced yet affordable options on Amazon, the Walsh Compact Refrigerator is available for only $104.99 and has an adjustable mechanic thermostat. It is known as the ultimate space saving refrigerator with its dimensions approximately equal to 17.48 inches height, 19.09* depth 19.49 inches in height. The refrigerator has a small icebox to store ice-cream or to keep your salads extra chill. The door has integrated bottle storage, with a special compartment for large bottles. It has an adjustable glass shelf which can be removed to make a single large storage compartment.
Price: $104.99