Waring Light-Duty Quik Stik Immersion Blender
Fifth Place
Waring Light-Duty Quik Stik Immersion Blender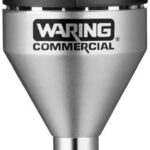 PROS:
The best immersion blender for making soups and sauces
Exclusively designed with ergonomic grip and powerful blades to help blend better
7 inch shafts makes immersion in pots easier
CONS:
Doesn't come with or support any attachments
Slightly pricey
Synopsis:
This light duty immersion blender is regarded as one of the best blenders if you are looking for professional grade immersion blending. On its own, without any attachments, the blender is available at a slightly higher price of $92 but offers ingredient blending like none other. It is best if you are only looking for an immersion blender strictly for blending soups and sauces only. It has a 2 –speed efficient motor and a 7 inch fixed shaft blade. It is lightweight and has a tight rubber gasket around the drive shaft which helps keeping it clean. This is most recommended for usage at home by professional chefs.
Price: $92