Adidas Performance Men's D Rose 773 IV Basketball Shoe
Third Place 2019
Adidas Basketball Sneakers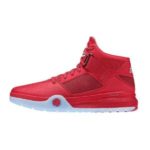 PROS:
Rubber outsole
Updated traction pattern
Quarter and heel collar webbing
Injected TPU
CONS:
Some customers have complained that the shoes is not comfortable and the bumps feel like sting.
Synopsis:
Our next shoe in the line is Adidas performance men's Drose 773 IV basketball shoe. These shoes are good enough if you are fan of Adidas and basketball at the same time. They have rubber outsole, updated traction patterns that keep the grip strong and have TPU injected into the fiber. However they lack features such as cable laces moreover the bumps that were designed to keep your foot comfortable and maintain blood flow are nothing but some folds in the middle sole, and many customers have complained about them being stingy and painful.