Anker Sound Core Bluetooth Speaker
Winner
Anker Sound Core Bluetooth Speaker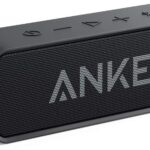 PROS:
Great sound quality with balanced tones
24 hours battery life
Built-in microphone for speakerphone calls
Easily connected with paired devices and ensures the connectivity up to 66ft
Light weighted body
CONS:
Due to small size, they struggle with volume enhancement
The tones become little harsh on high frequencies
Echo is experienced while using a speakerphone
Synopsis:
The Anker Sound Core Bluetooth Speaker is designed to have quality of sound at quite a reasonable price. It is portable with a very simple design and has a solid speaker with measuring 6.5 x 2.25 x 1.75. The body is made up of plastic with soft rubber covering that cases the whole speaker except.
Price: $27.99
Sorry, we couldn't find any posts. Please try a different search.